PROVIDING CUSTOMISED DAMPING PRODUCTS TO WORLD-LEADING COMPANIES FOR OVER 50 YEARS
Dellner Dampers
Dellner Dampers has provided customised damping products to world-leading companies for over 50 years. Our mission is to provide an optimal solution for any vibration or energy absorption problem. All of Dellner Dampers manufacturing and product development are done in-house in Sweden.
THE PROBLEM SOLVER – CUSTOMISED SOLUTIONS
The preservation of Dellner Dampers entrepreneurial spirit has also allowed the company to maintain a high level of ingenuity, customer focus and production flexibility. We at Dellner Dampers listen to the customer´s needs and are able to produce either 1 or 1000 dampers/buffers, so long as the requirements are met.
INDUSTRIAL DAMPING TECHNOLOGY
WITH ROOTS IN THE RAIL INDUSTRY
The starting point for our company was the production of dampers for trains. Today you can find Dellner Dampers´ hydraulic dampers and buffers in both rail and industrial applications.
SAFETY ALWAYS COMES FIRST – QUALITY
 


ENSUES AS A RESULT

Dellner Dampers is certified according to ISO 9001:2008 and IRIS (International Railway Industry Standard). Most of our dampers and buffers are used in applications where their performance is related to safety – both for humans and structures.

Without our dampers being installed on bridges they might well be subject to fatigue, and in the end jeopardise the safety of both the structure and human lives. With 50 years of experience from the rail industry, we are extremely aware that safety is vital.
DAMPING TECHNOLOGY FOR VARIOUS
 


INDUSTRIES WORLD-WIDE

Dellner Dampers offers a wide range of hydraulic (viscous) dampers and buffers developed in co-operation with the customers and manufactured according to their individual specifications.

Dellner Dampers products are used world-wide in a wide variety of applications e. g.
Bogies of trains, trams and metro
Between the car bodies/coaches
Container spreaders
Cable stayed bridges
Ship to shore cranes
Crash test rigs
Wind turbines and more
Latest news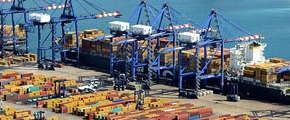 20 June 2017: Dellner Dampers wins contract with world's largest crane manufacturer, for Freeport expansion. Read more »
Member of Dellner Industrial