Safety always comes first – quality ensues, as a result
Quality testing and control of every single unit
Since our dampers and buffers are often used in harsh environments, we test them thoroughly ourselves as well as together with external partners during the development process.
Dellner Damper's products are guaranteed to meet your demands for a very long product lifetime – designed to withstand fatigue, corrosion, extreme temperatures and more. In addition, to ensure that every unit is flawless, we do a 100 % functional test of our dampers before delivery and each individual damper is delivered to you with a test protocol.
Our products include, for example, dampers for the cables in cable stayed bridges, seismic dampers, dampers for container spreaders or wind turbines; hydraulic buffers used in ship to shore cranes, process cranes, material handling, steel mills, military applications and energy generation.
Long experience protecting human lives
Most of our dampers and buffers are used in applications where their performance is related to safety – both for humans and structures. Without our dampers being installed on bridges they might well be subject to fatigue, and in the end jeopardise the safety of both the structure and human lives.
With 50 years experience from the rail industry, we are extremely aware that safety is vital. All of our products are designed and produced in house in our workshop in Sweden and our welding is governed by the rigorous standards we must fulfill to deliver to the rail industry.
In addition to the IRIS and ISO 9001:2008 standards, we are certified for welding according to EN 15085-2 Level CL1 (the railway industry standard for welding). Welding certificate EN-ISO 3834-2 must be fulfilled to get the EN 15085-2 Level CL1.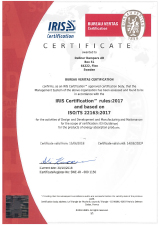 Member of Dellner Industrial